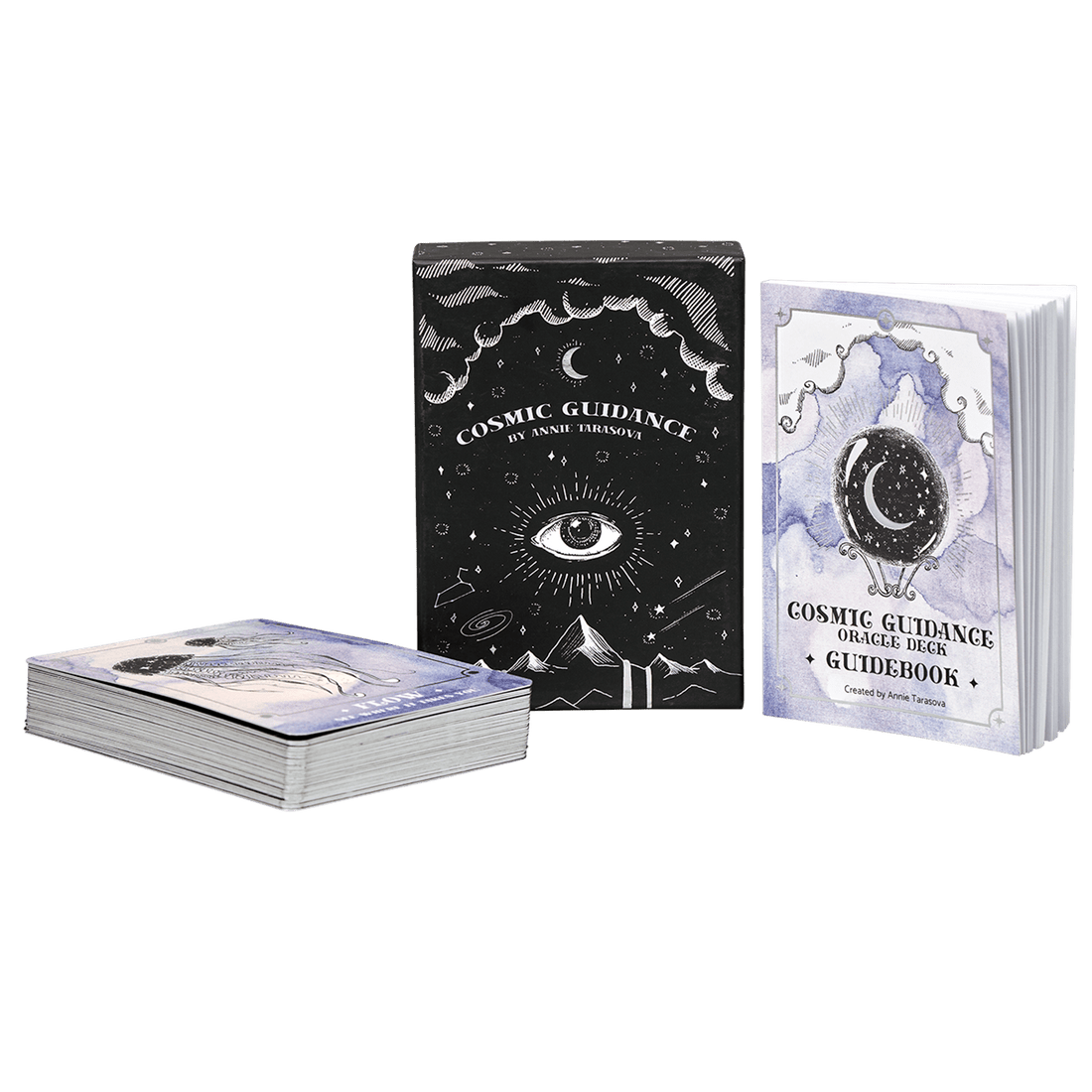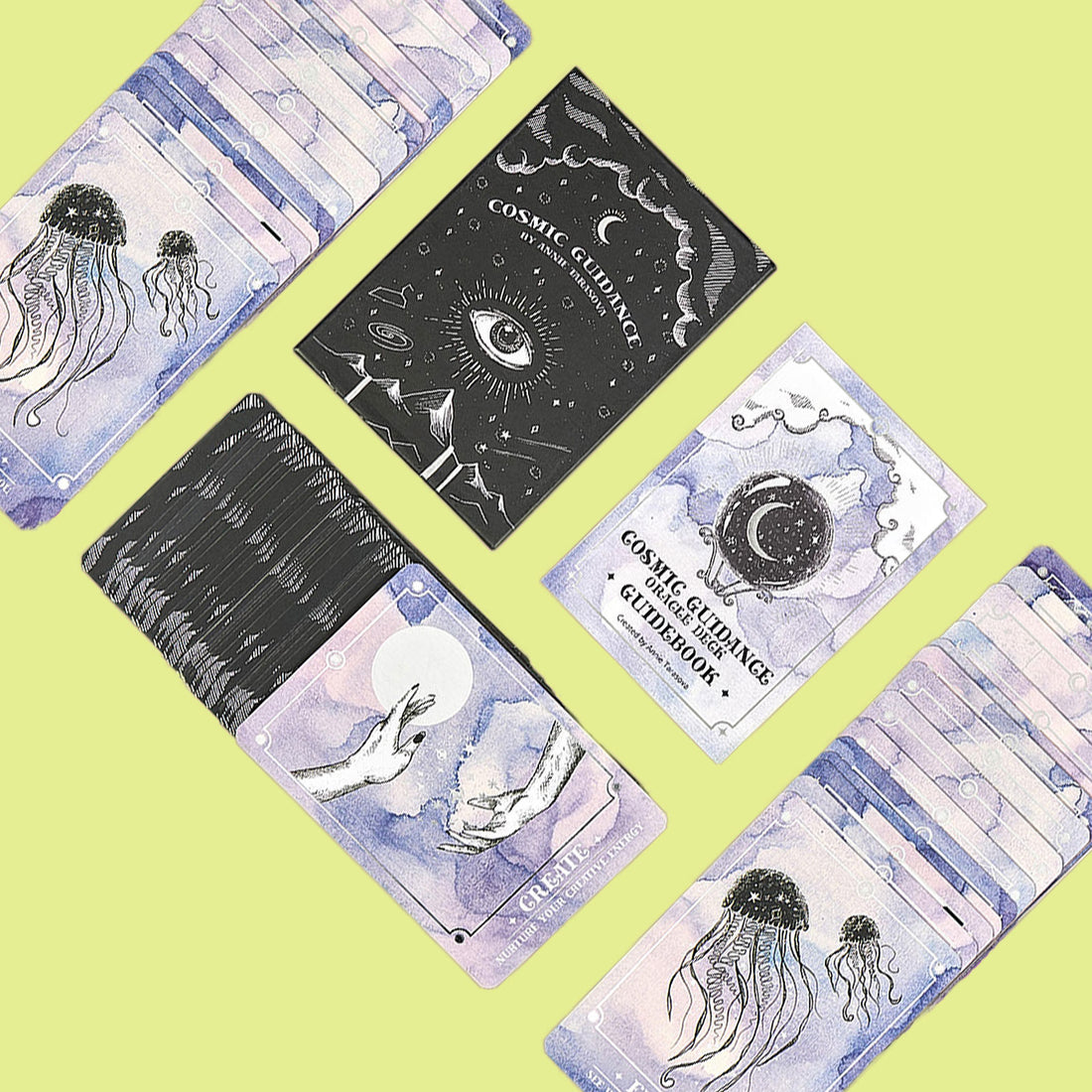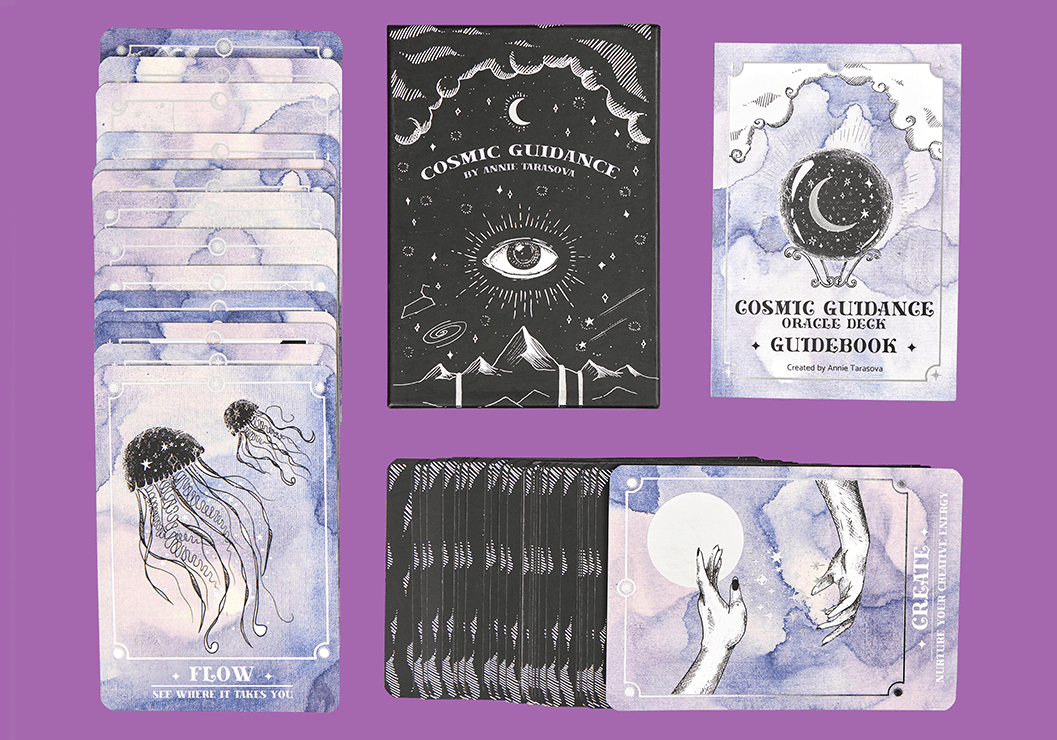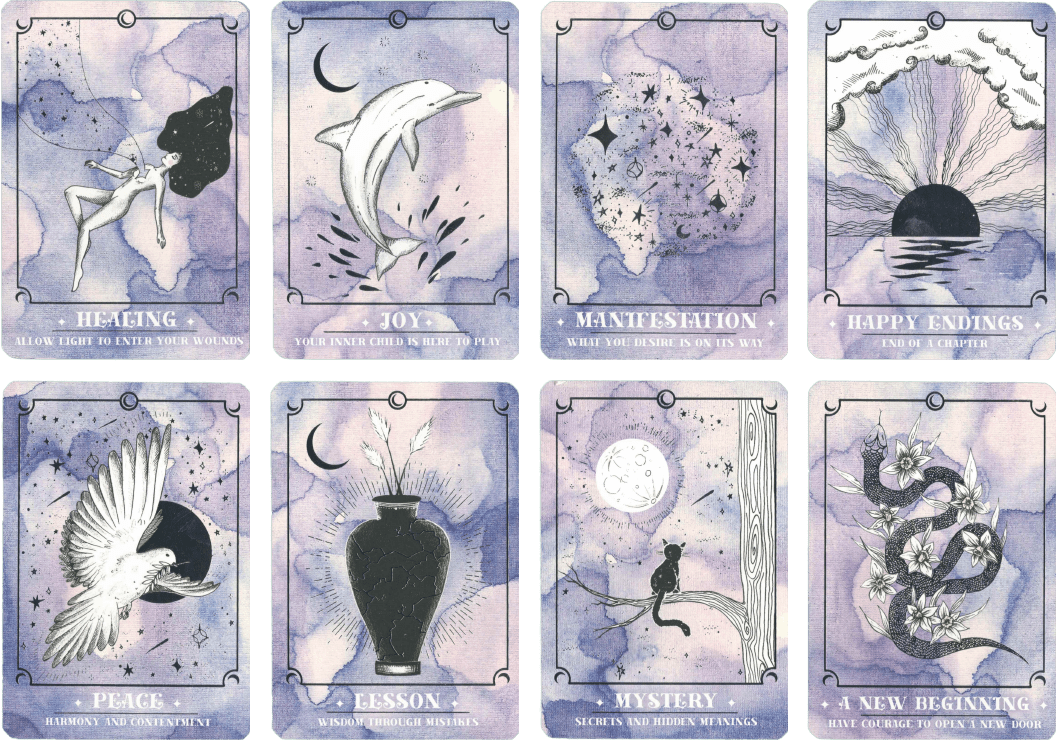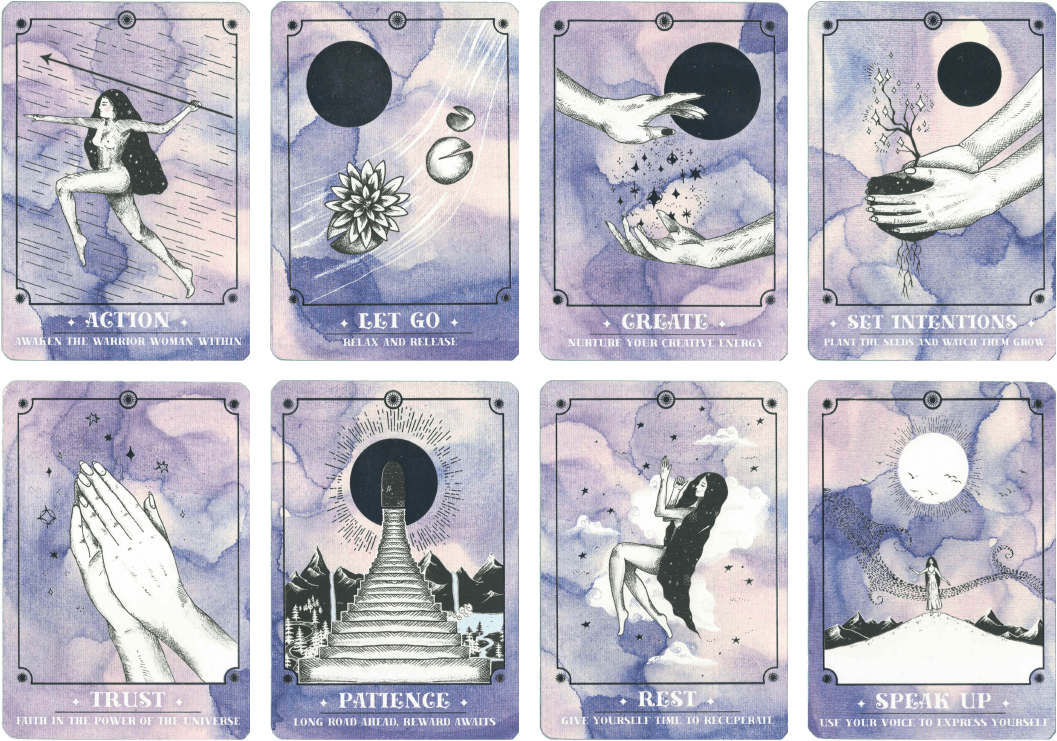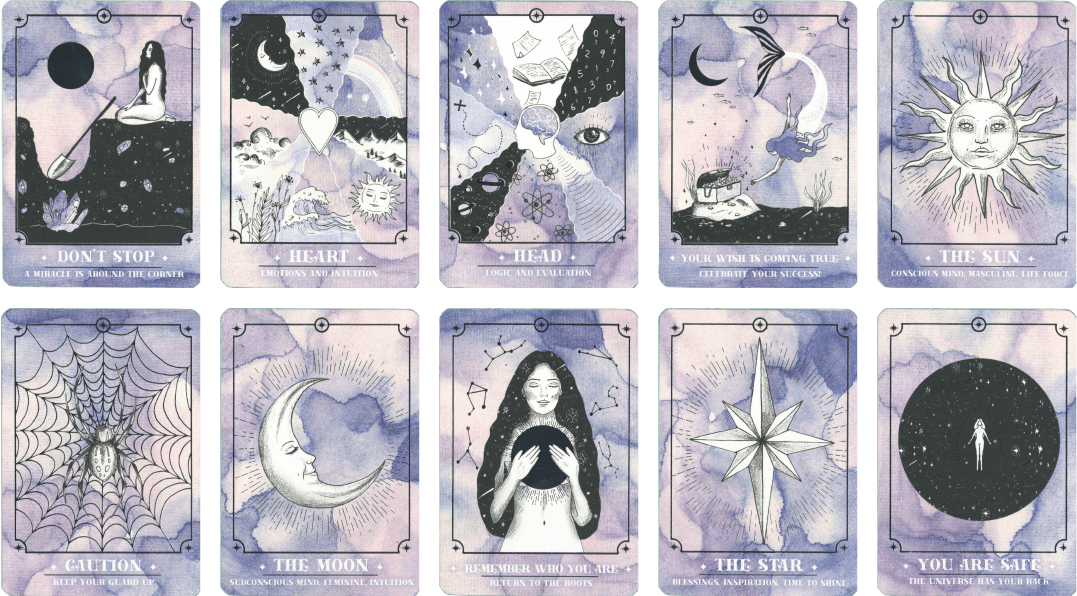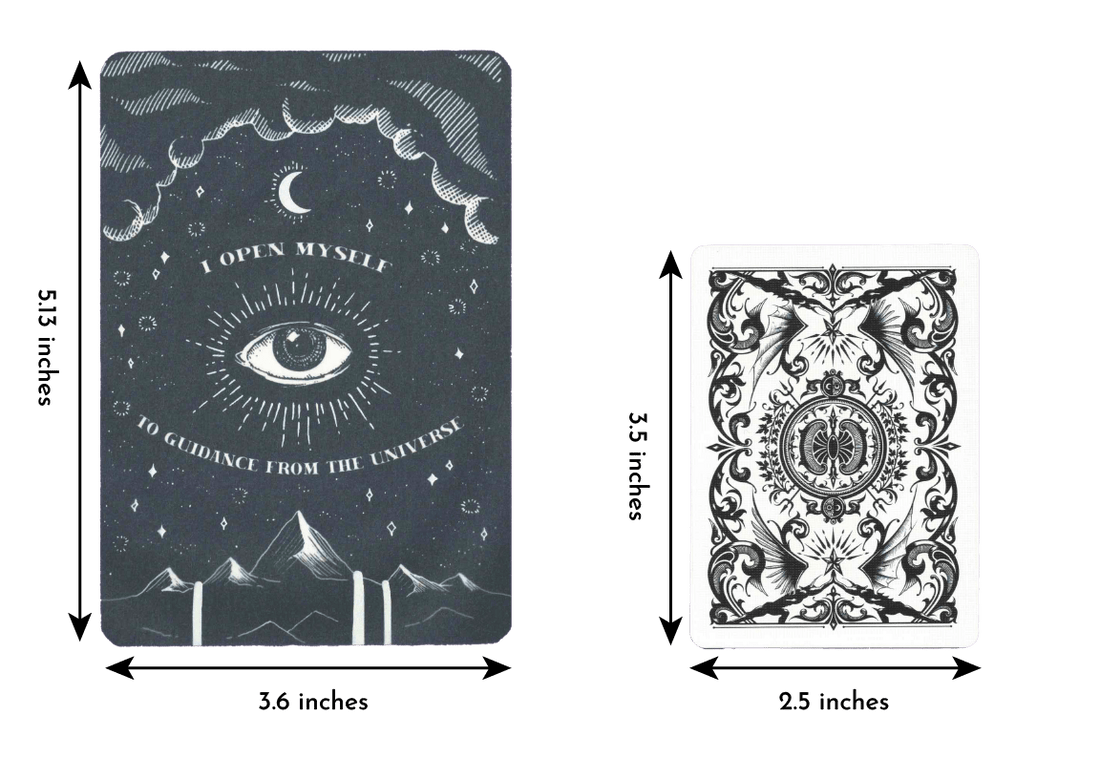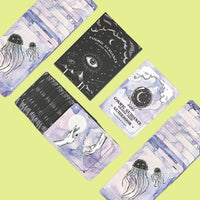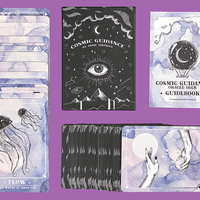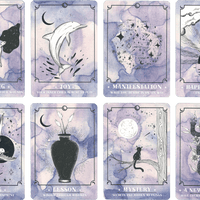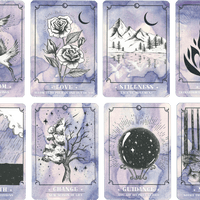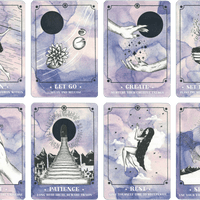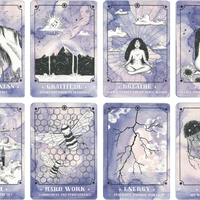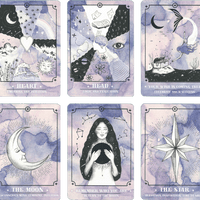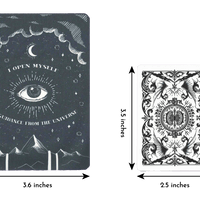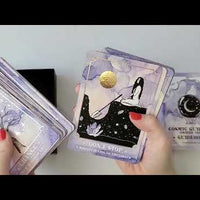 This delicate deck contains forty two matte and foil oracle cards, along with a full guidebook, in a stunning two-piece box.

Each purple, black and silver card displays an action, a meaning or a message, along with an intuitive image. The thoughtful guidebook provides additional context, exercises and affirmations.

Use each suit individually as clarifiers for people, situations and advice, or the deck as a whole for a gentle and uplifting reading after a long day.


OTHER DECKS BY ARTIST

Affirmation cards deck
AFFIRMATION CARDS by DREAMYMOONS
Oracle deck
SOUL WHISPERS ORACLE DECK
Tarot deck
Let the magic begin... Cosmic Guidance was created with endless love, with an intention to help you connect with your intuition and the Universe, and gently offer you guidance on anything that might be on your mind.


The violet colour present in the (original) decks is the colour of our Crown Chakras - energy centres that allow us to connect with the divine energy that created us: pure love, peace and joy.

Every illustration was created intuitively and has symbolisms and deeper meanings related to the card. Mountains often symbolise challenges, water symbolises going with the flow, specific flowers and animals illustrated have their own associated meanings. Celestial elements in the artworks such as stars, planets and moons represent our connection with the Universe.
This 42 card deck is divided into 3 suits - Action, Meaning and Message.

Action cards tell you what you need to DO about your situation. Think of them as the Universe giving you practical advice on how you should act in order to manifest the best outcome.

Meaning cards explain what your situation MEANS. Think of them as your subconscious mind or intuition telling your conscious mind the hidden truth.

Message cards is what the Universe wants you to KNOW. It doesn't necessarily mean you have to do anything about it, it is just messages related to your situation for you to be aware of. After receiving and understanding the message, you can make up your own meaning or action inspired by it.
I am an independent artist on a mission to inspire you to look within, as I believe all the answers to your questions are found in your inner world. I started DreamyMoons in 2016, initially created to inspire me to paint more when I felt like I lost touch with my creative side. What was created simply for inspiration, turned into the most fulfilling full time job I could ever ask for.

Through making art again, I connected with my inner child and fulfilled my childhood dreams of creating my own books. I feel like I am living my true purpose.

I want the whole world to feel like that. I want YOU to live your true purpose.

That's why I do what I do. I hope you love all I have to offer.

Annie x
STUNNING DESIGN AND AESTHETICS
SHUFFLE-FRIENDLY, THICK CARD STOCK
A BEAUTIFUL GILDED EDGE ON EACH CARD
A COMPLETE GUIDEBOOK WITH ARTIST EXPLANATIONS FOR EVERY CARD
EXCLUSIVE UNBOXING
COSMIC GUIDANCE ORACLE BY DREAMYMOONS