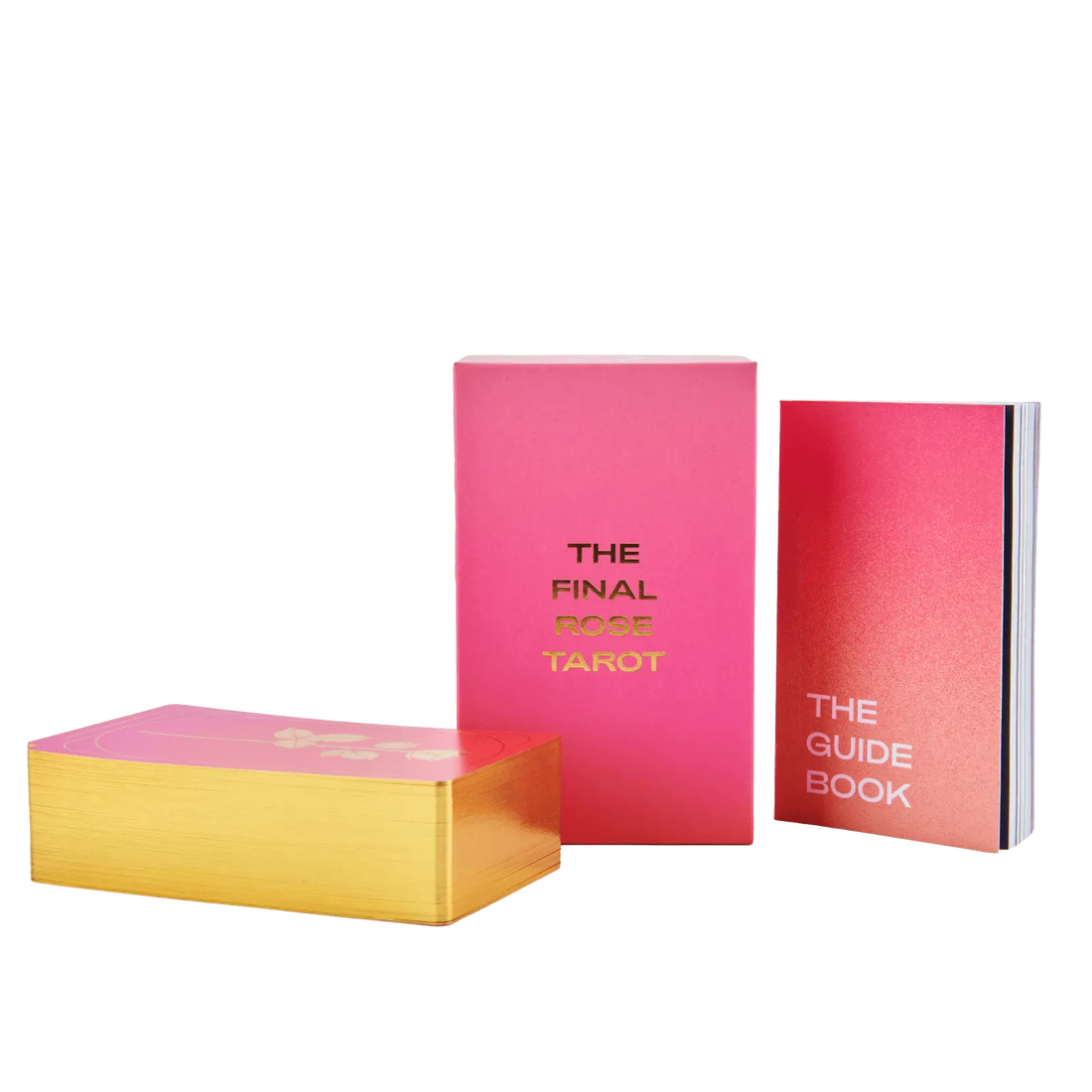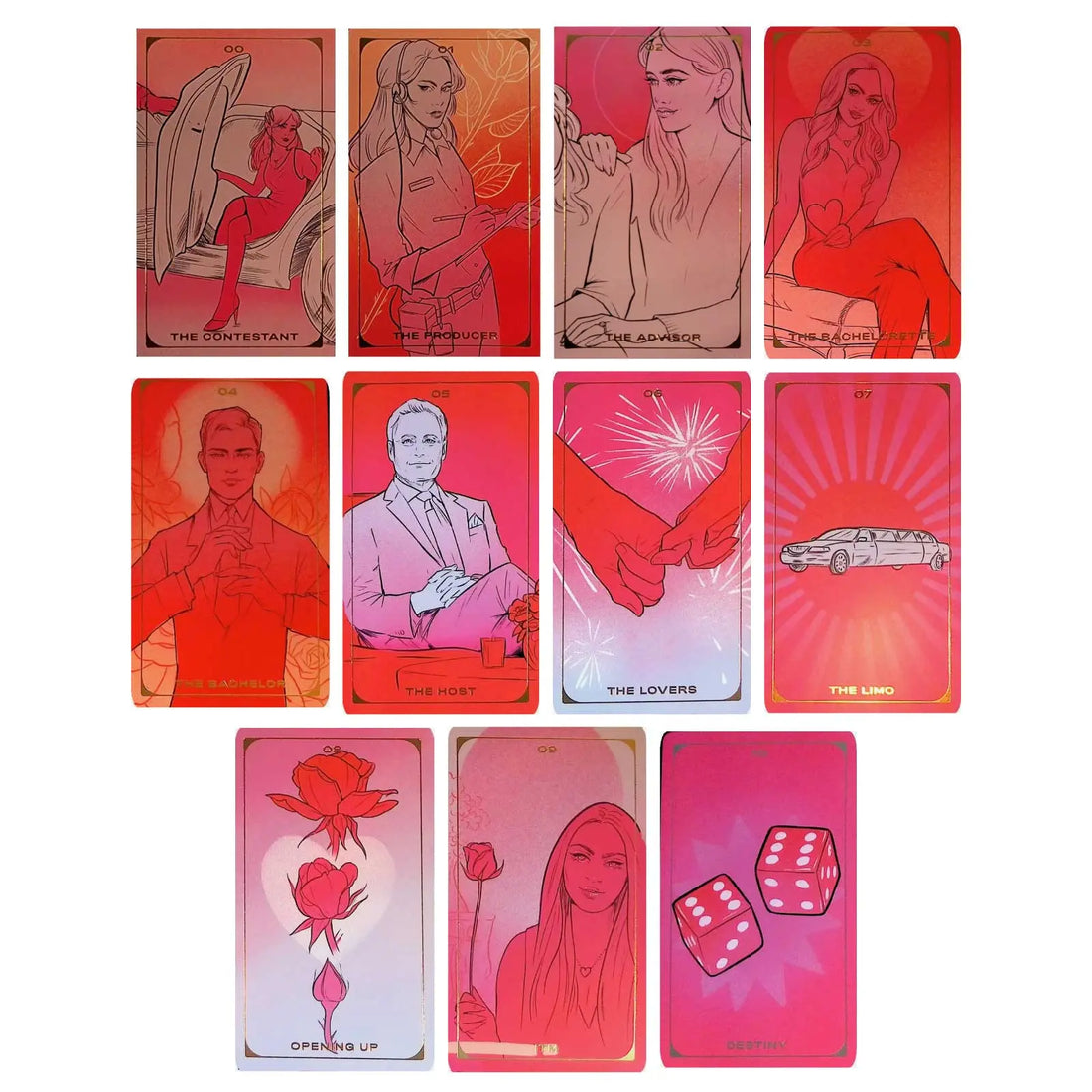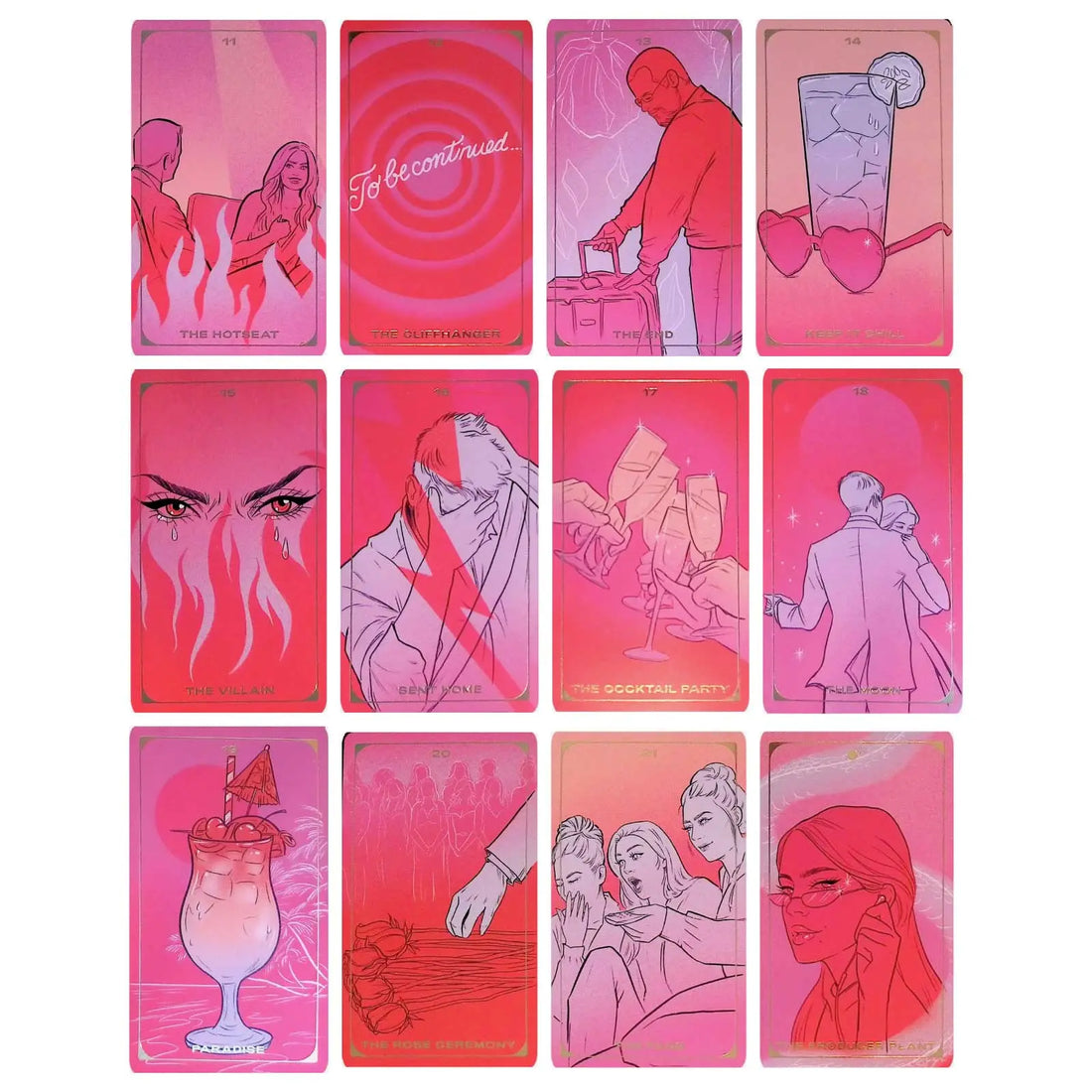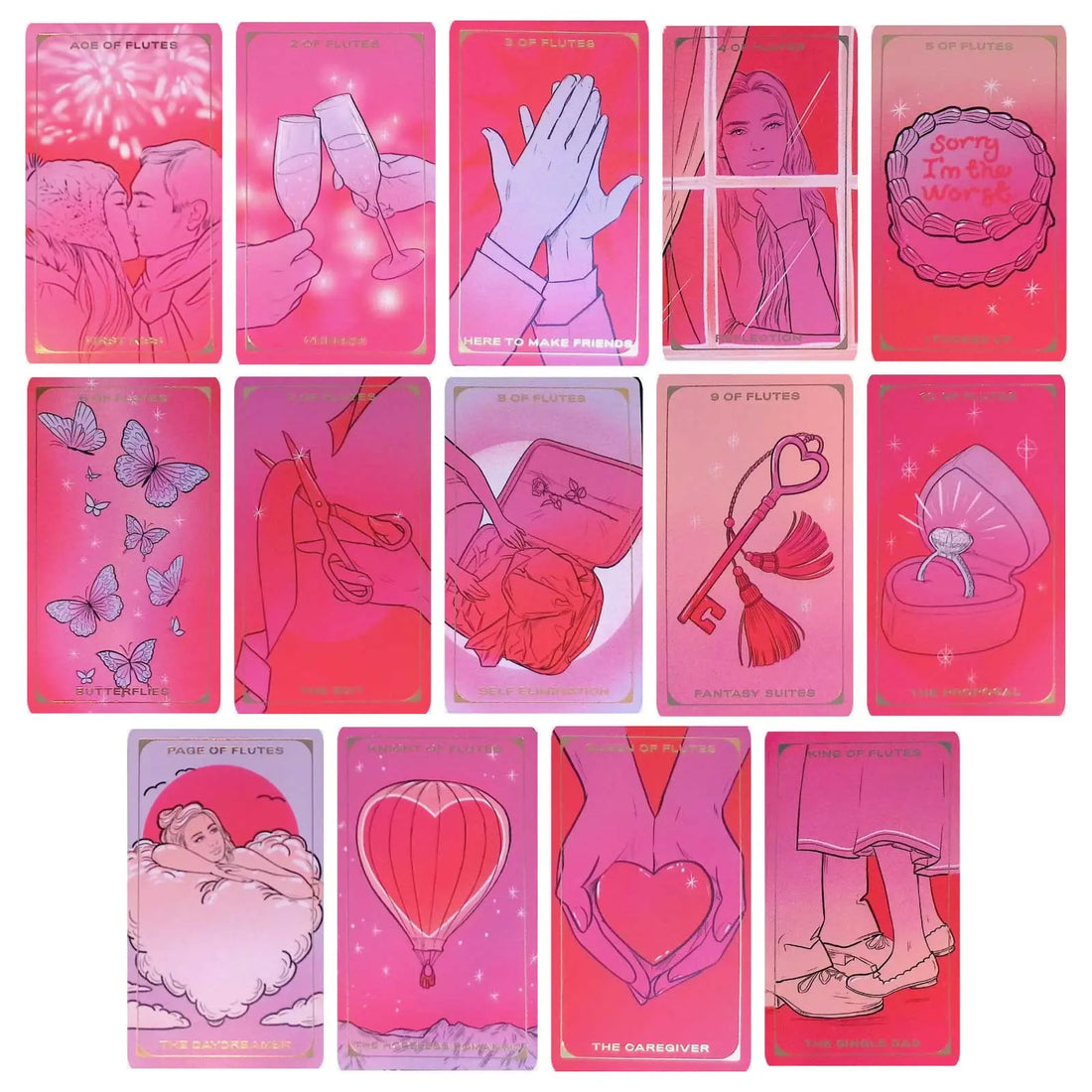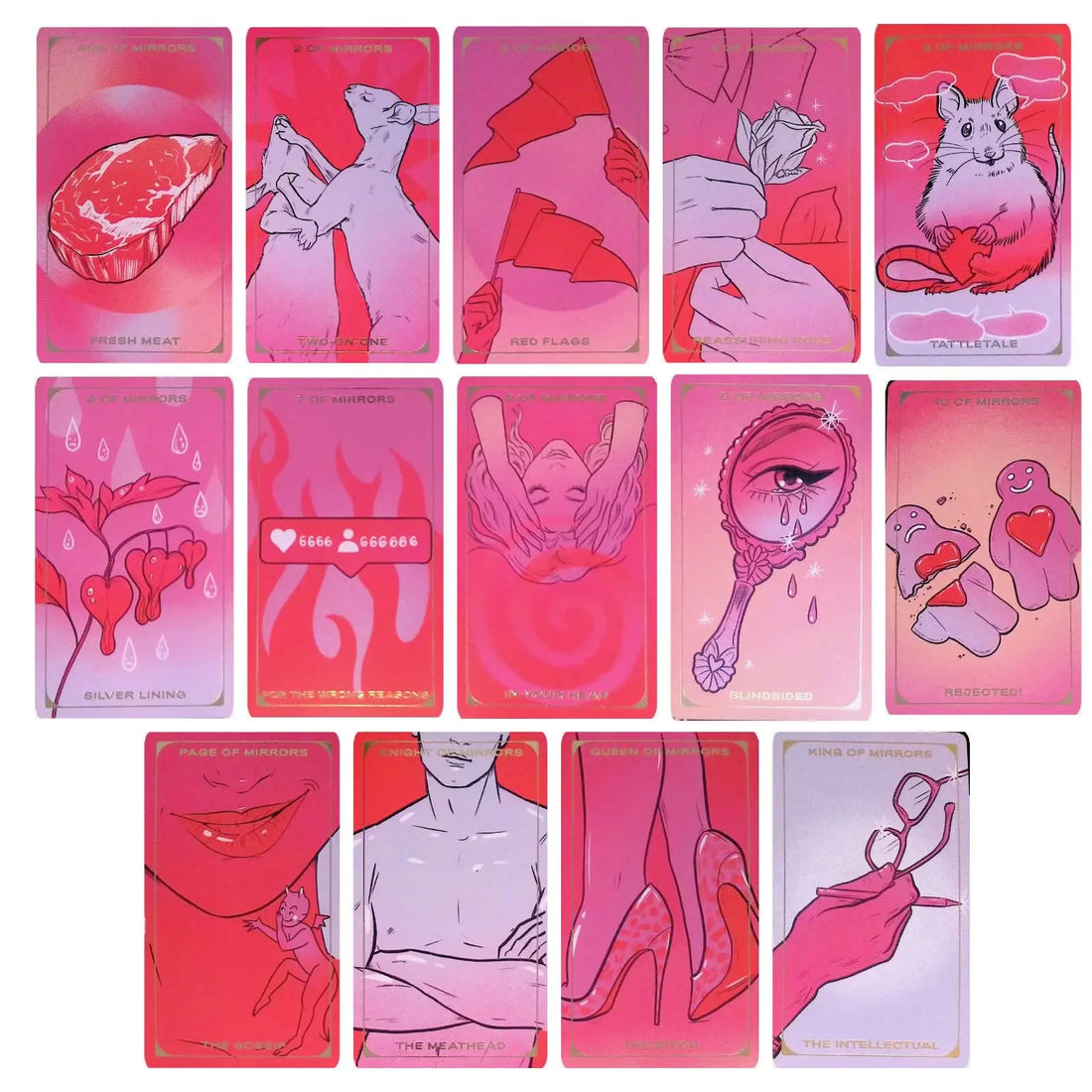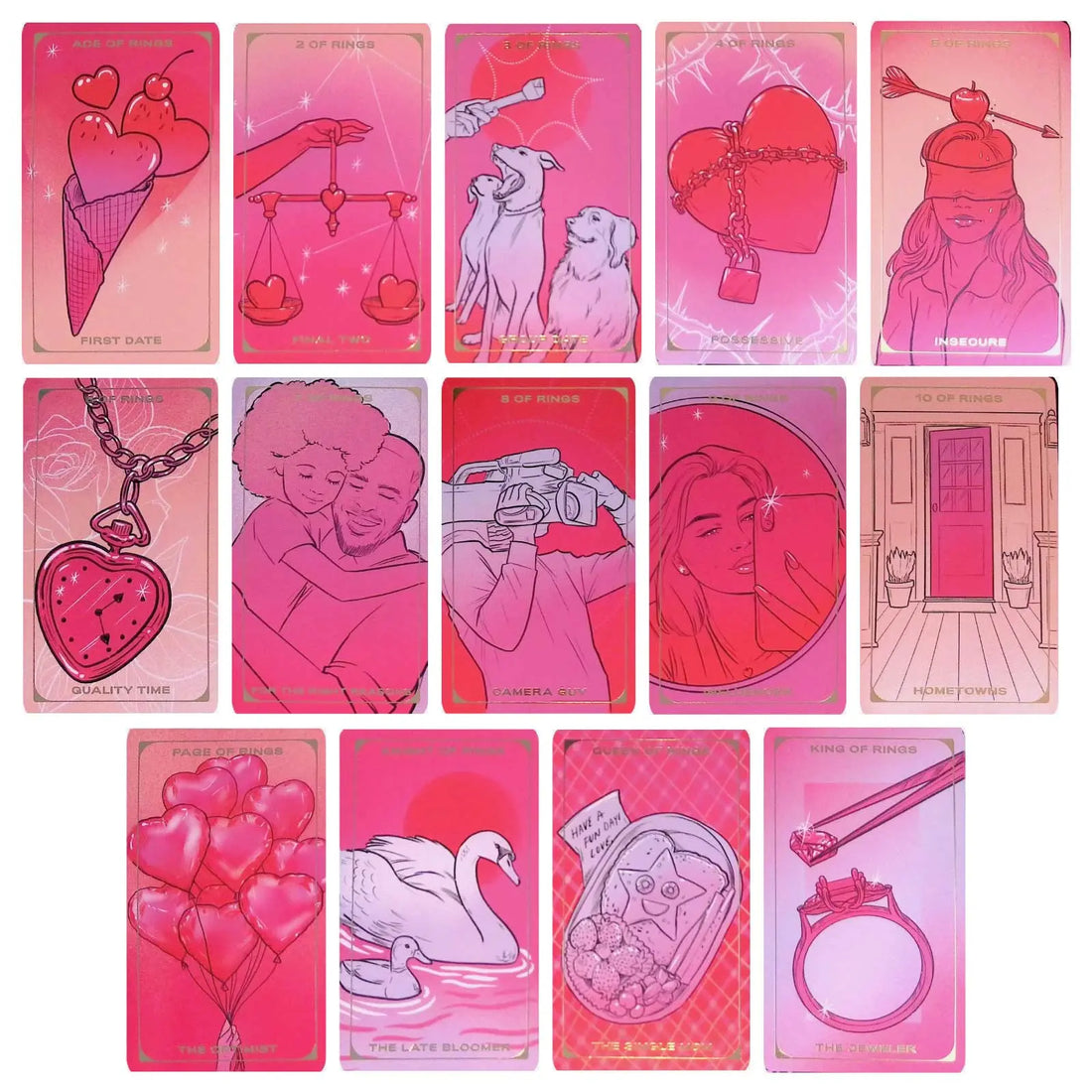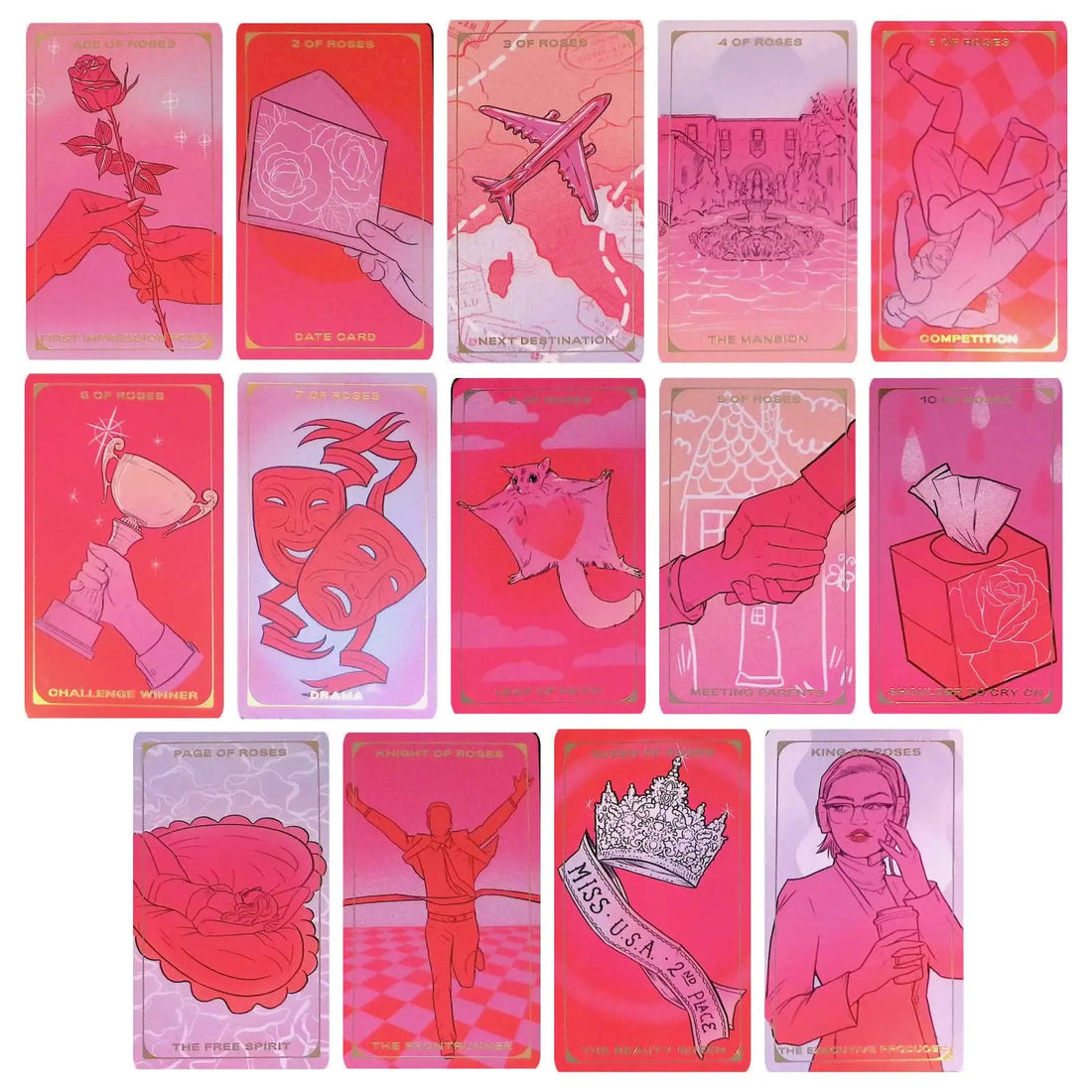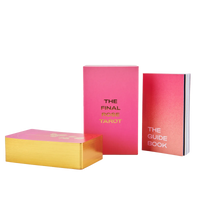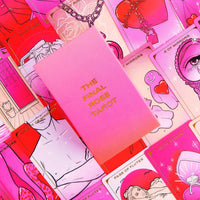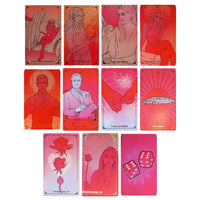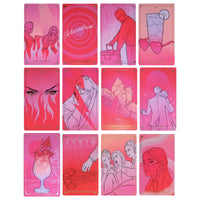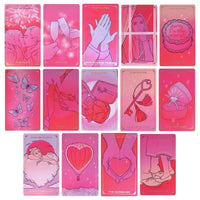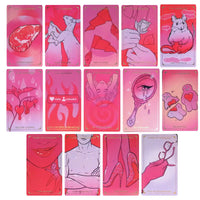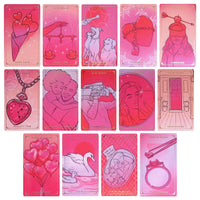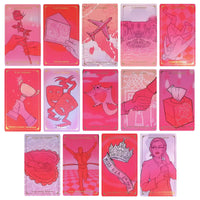 Meet The Final Rose Tarot, your new relationship BFF! With this gorgeous pink deck, you'll discover all the juicy details. Whether you're looking to manifest romance or dive into the drama at your binge-worthy TV watch parties, this deck is here to satisfy your tarot cravings.

There are 78 vibrant cards + a bombshell bonus card with eye-catching illustrations. The Final Rose Tarot brings reality TV archetypes to life, giving you a handy tool to dish out relationship advice or predict the upcoming love rollercoaster.
There's a twist on traditional tarot suits in this sassy relationship deck:
Wands are transformed into vibrant Roses, symbolizing passion and blooming potential. Cups take a fizzy turn, becoming flutes that bubble with emotional depth and celebration. Swords trade their sharp edges for reflective mirrors, offering insight and self-reflection. And Pentacles take the form of dazzling Rings, representing material abundance and the beauty of earthly treasures. Get ready to explore relationships with a fresh and unique spin!

The cards are printed on thick card-stock and have a luxurious velvety matte finish, giving them a luxurious feel. Not to mention the gold foil stamping and opulent gilded edges. Who doesn't love a little bling?

My tarot reading skills aren't that great, but I love this stuff? A witty and detailed guidebook with 79 card descriptions and keyword associations is included. It's beginner-friendly and makes readings a breeze, even for tarot newbies.

Now grab your rose, gather your friends, and let this tarot deck be your ultimate relationship companion. Get ready to manifest, gossip, and have a blast while uncovering your love life's truth. Here's to love, drama, and a deck that's fun and dependable!
This deck is reality TV themed, specifically the Bachelor! Anyone who loves reality tv dating shows will relate to the archetypes and
have fun with this deck. Many people love it particularly for relationship and love readings because the cards are very relatable, down to
earth and easy to understand and apply to everyone.
The Final Rose Tarot is the lovechild of our guilty pleasure (absolute trash tv) and our study of the tarot. It's our antidote to doom-and-gloom spirituality, cause honestly we're tired of taking sh*t so seriously! 😋

The project started as something fun to mess around with and quickly took on a life of it's own. Before we knew it we were knee-deep in styling promo pictures and photoshopping mockups. 3 whirlwind months after the idea came to us we launched our campaign on Kickstarter to fund the first pressing.
STUNNING DESIGN AND AESTHETICS
SHUFFLE-FRIENDLY, THICK CARD STOCK, PINK CARDS
GILDED GOLD EDGES ON EACH CARD
A COMPLETE GUIDEBOOK WITH ARTIST EXPLANATIONS FOR EVERY CARD
Spills the tea without leaving any juicy details
Your new go-to deck for relationship readings, The Final Rose Tarot spills the tea and leaves no juicy detail up to imagination. Manifest romance and let the gossip (and rosé) flow.