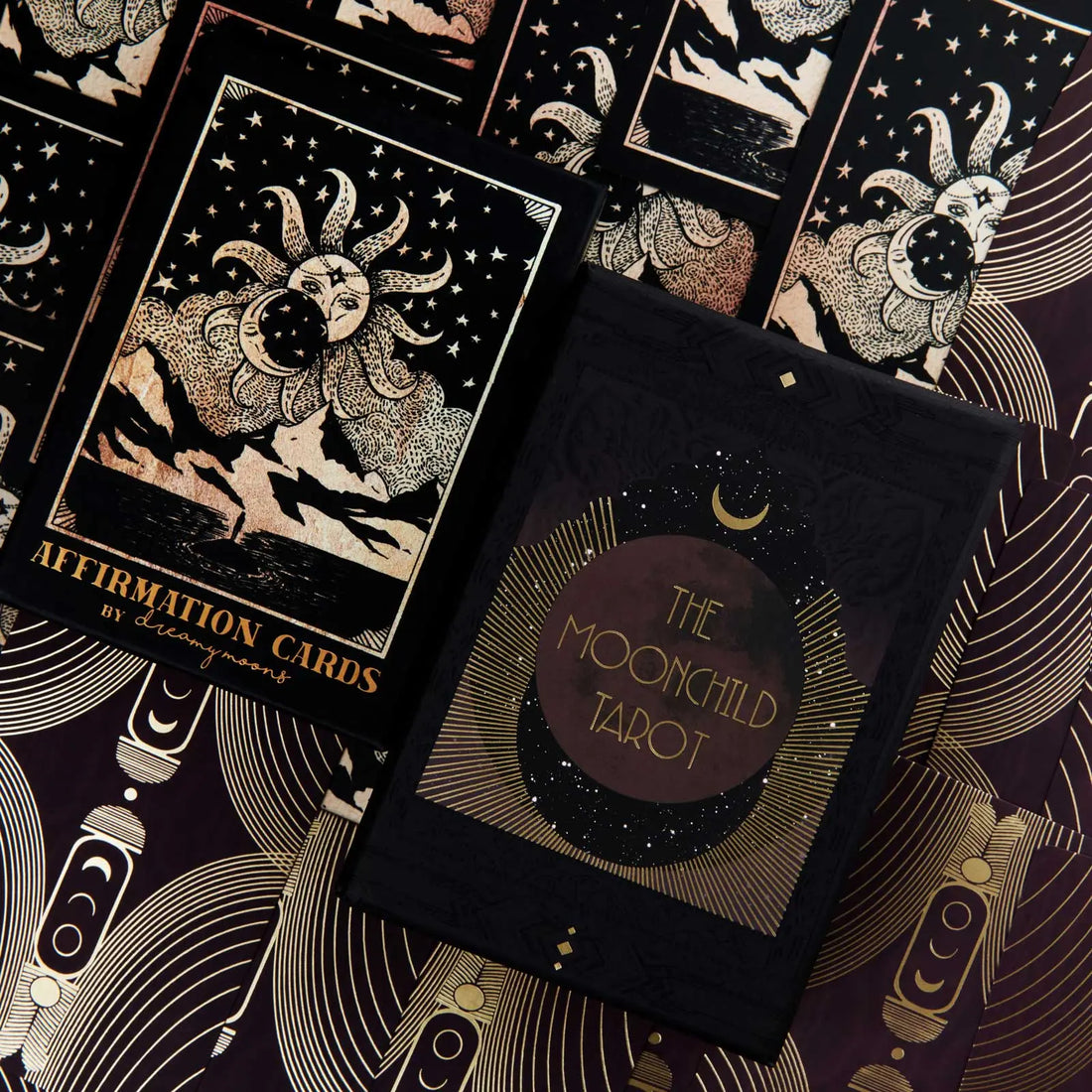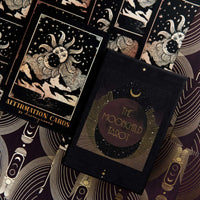 Dive into Fall 2023 with the Kino Tarot's exclusive bundle! 🍂✨
Get ready to embrace the cozy vibes with our Moonchild Tarot Shadow Work edition and Affirmation cards by DreamyMoons.
KINO EXPLAINS:
Warm hugs and gold hues everywhere help you slow down -- "Although Fall brings shorter and cooler days, it's the season that feels the most like a warm hug. The gold hues in these decks feel just like that to me. Both decks definitely have a more introspective energy, which mirrors the call to slow down and reflect in the Fall season."

How to use these decks together? --

Moonchild Tarot: ''What is asking for my focus right now?'' / ''What wants to be healed?''
Affirmations Oracle: ''What affirmations can I use to help me on this path?''

Affirmations Oracle: ''What truth does my higher self want to remind me of right now?''
Moonchild Tarot: ''What steps can I take to fully embrace and act on this truth?''

The moonchild in you will love it -- "The Moonchild tarot is dedicated to the moon, and how she lights the way for us to dive into our own depths and see the unseen. It's a powerful deck for connecting with our subconscious thoughts, beliefs, desires, and fears, which is so important for shadow work. This deck even has a Shadow Work card as an extra major arcana which I think is a beautiful addition.

As for the Affirmations oracle, the cards can serve as prompts in terms of what shadows may need our focus right now. As we pull a card from this deck, we can sit with the statement and ask ourselves how true it feels -- how ready are we to accept this loving message? If it feels uncomfortable or untrue to us, it may be a sign to dig deeper. The cards can also serve as words of encouragement to help us out of darkness."

Hi! I'm KINO ♈️☀️♊️🌙♉️👆
I make tarot pick-a-card readings and the occasional video on spirituality 💫💖
STUNNING DESIGN AND AESTHETICS
BEAUTIFUL MATTE EDGES ON EVERY CARD
SHUFFLE-FRIENDLY, THICK CARD STOCK
LUXURIOUS BOX WITH INTRICATE ARTWORK PROTECTS YOUR CARDS