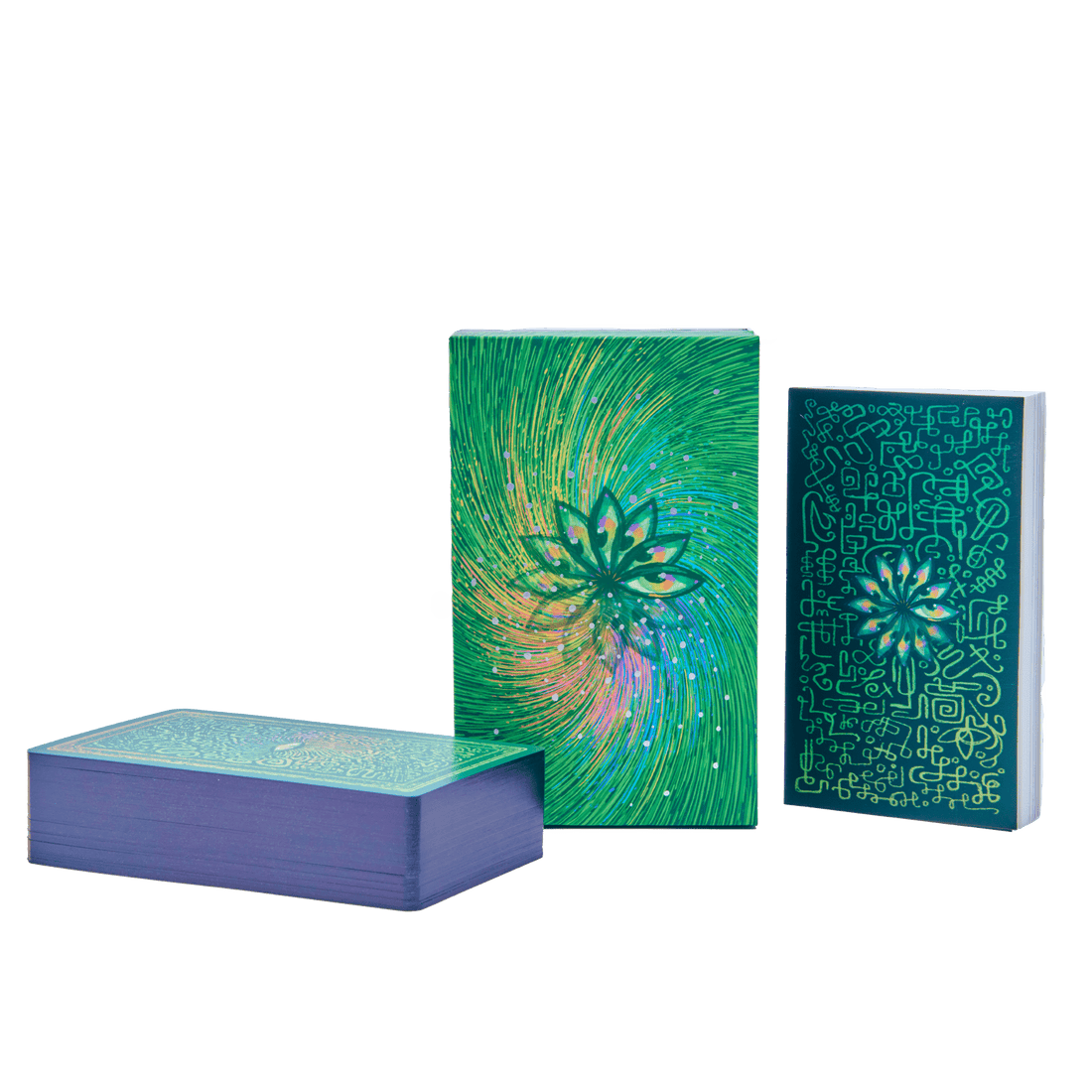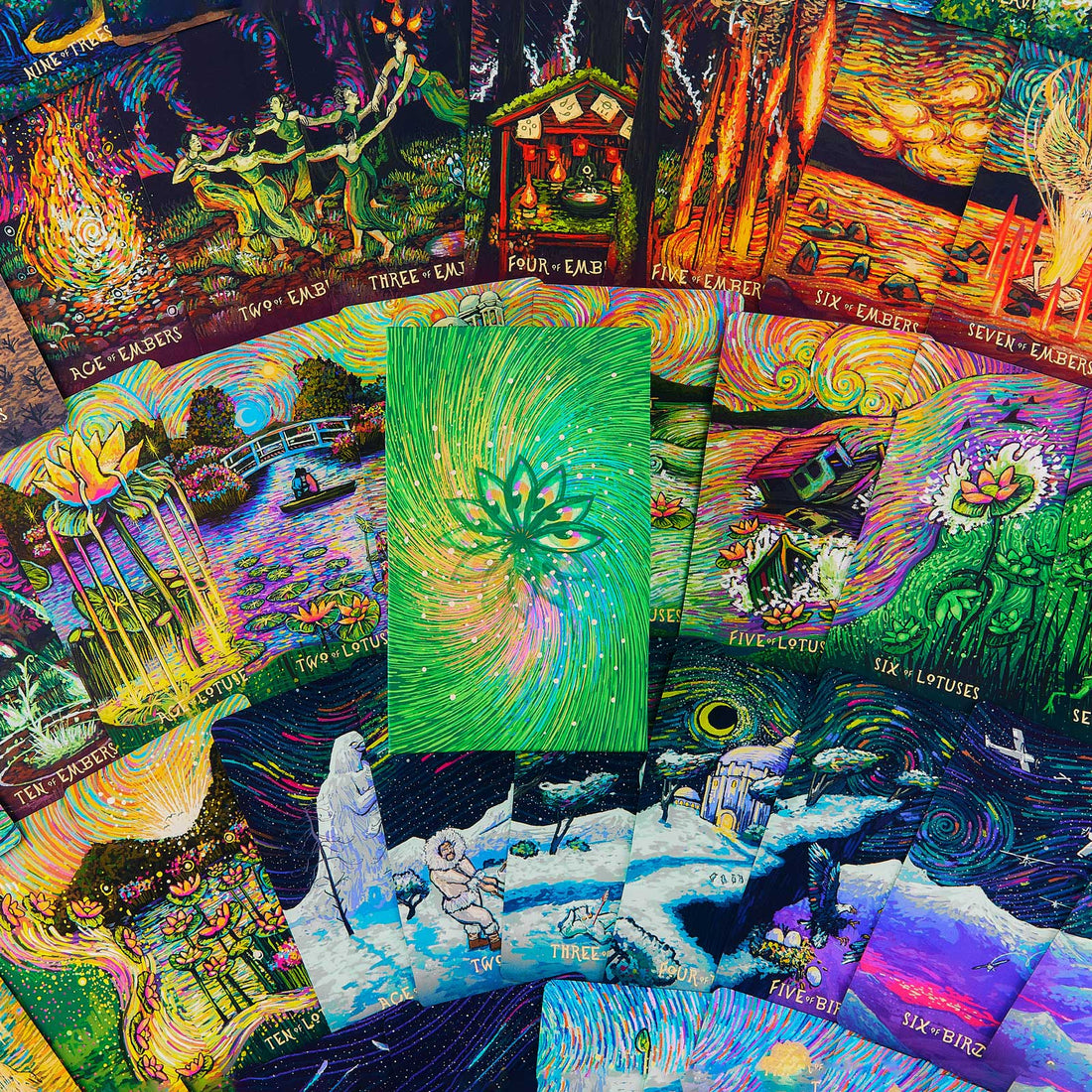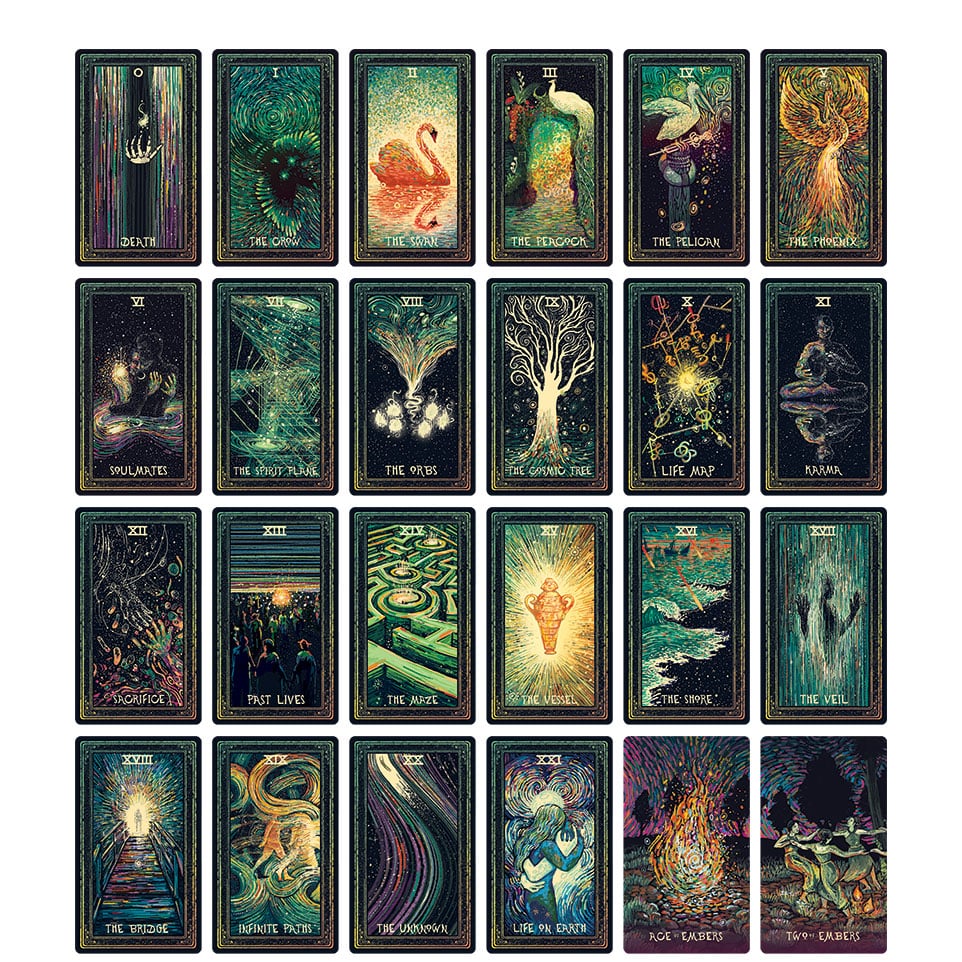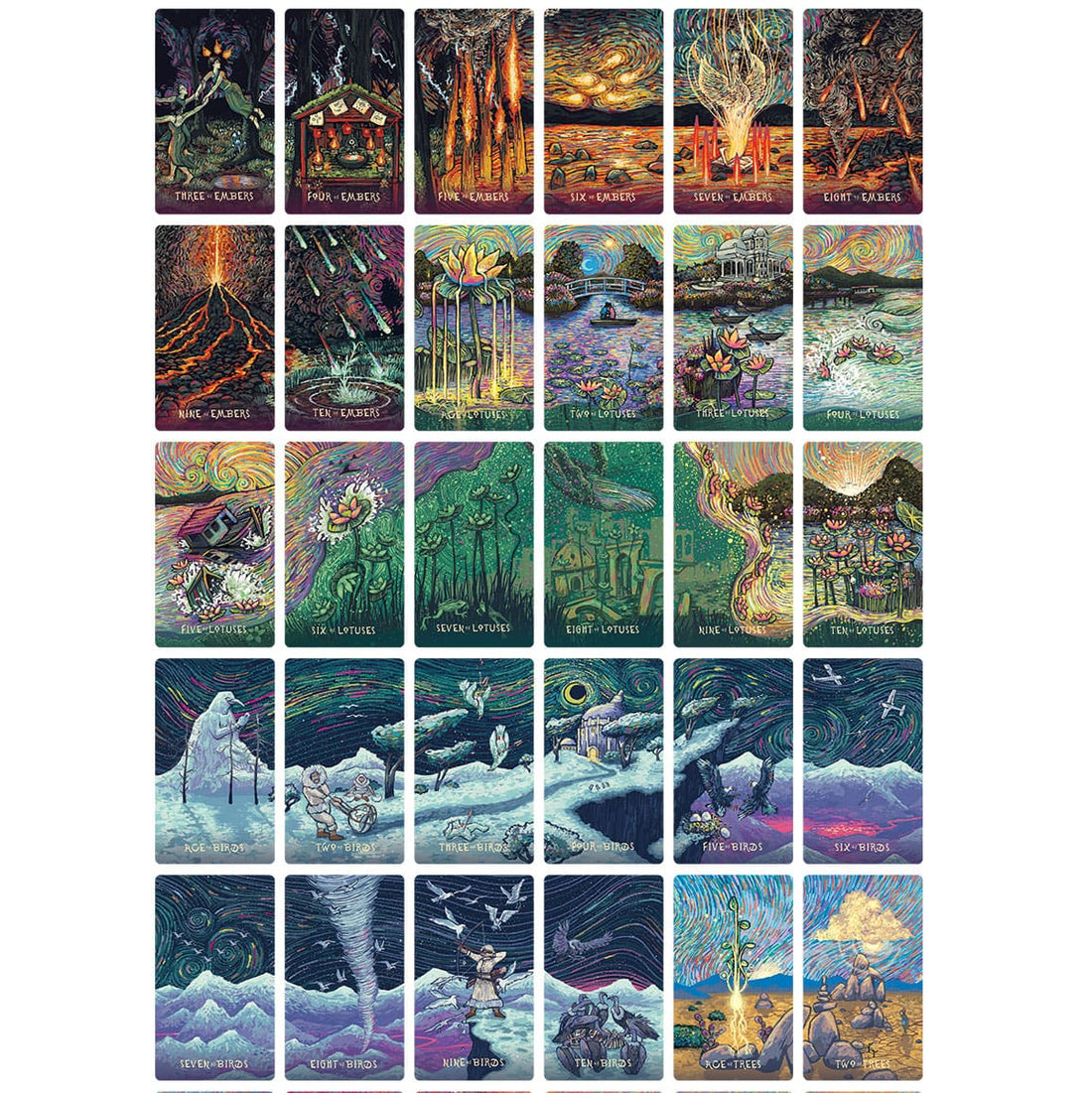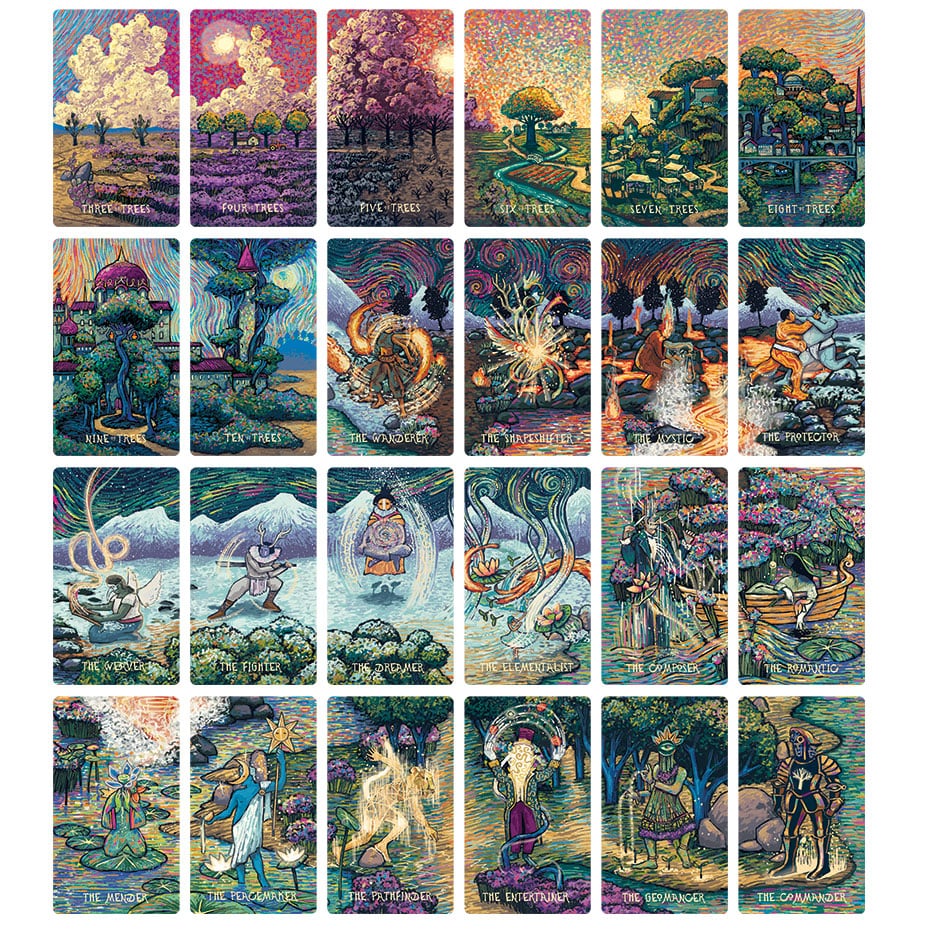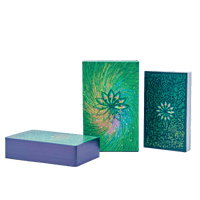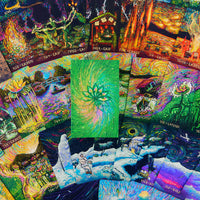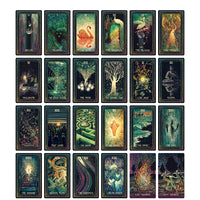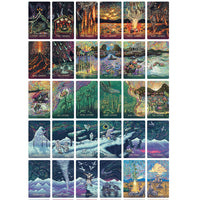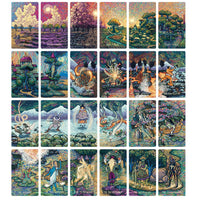 Are you a believer in reincarnation? Then you'll love this Oracle.

Whether you read it alone or with other Tarot decks, this deck will bring a panoramic view to your self-exploration and divination journey. Pair it with the Prisma Visions Tarot if you want to add a layer of earthly existence to your reading.

The 79 cards in this Oracle deck are based on the Tarot 78-card system, with Major and Minor arcana cards and a mystery Oracle card. Having trouble understanding Oracle cards? With transformed court cards that represent "beings" (the fifth suit), this Oracle deck is a lot like Tarot. It's one of the goals of the creator and artist, James R. Eads.
What's included in the second edition of Cosma Visions Oracle:
The Cards are approximately 2.75" x 4.75". The cards are printed with the highest quality inks on durable card-stock and are finished with a matte UV varnish and edged with labradorite blue edges.
The Booklet is same size as the cards and about 100 pages with a short introduction. The guide explores the imagery of each card and its associated meanings.
The Box is a one-piece flip-top clamshell box. It is constructed with 1/8" thick cardboard and is printed with a matte finish and includes holographic foil accents.
🔮🌌 Unleash the magic of the Cosma Visions Oracle with these tips by James R. Eads:

Embrace the journey: Dive into the depths of afterlife exploration and soul evolution – each card whispers tales of past lives.

Connect the dots: This oracle mirrors traditional tarot, bridging familiarity with fresh insights. Feel the Tarot vibes in a whole new light.

Storytelling suits: Let the minor arcana cards weave their narrative magic. Panoramic suits are your secret to absorbing card meanings effortlessly.

Expand intuition: Trust your instincts. Whether you're starting or seasoned, Cosma Visions Oracle's unique charm resonates with all readers.

Dreamworld divination: Don't miss the 79th card, Dreamworld – your ticket to dreamscape revelations. 🌙✨
Meet James R. Eads - an LA-born art wizard. Whether he's designing gig posters for legends or crafting mystical tarot decks and VR realms, he's a post-impressionist dreamweaver. 🌌🎨
STUNNING DESIGN AND AESTHETICS
SHUFFLE-FRIENDLY, THICK CARD STOCK
SMOOTH PURPLE EDGES ON EACH CARD
LUXURIOUS BOX WITH INTRICATE ARTWORK PROTECTS YOUR CARDS
CREATING ENDLESS PANORAMAS
Reconnect with where it all started. The tenth card in the minor arcana loops back to the first card. Creating a panoramic vision enables your intuition to relate the reincarnation journey to the larger picture.